שעון מעורר כולל רדיו ועוד שלל אופציות
Sorry! Something went wrong!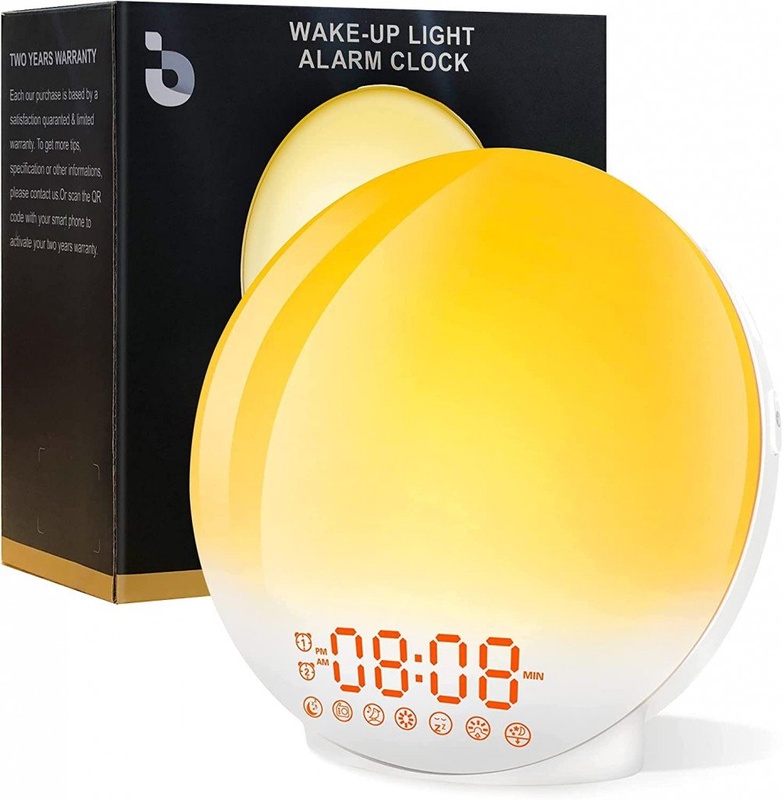 שני אופציות להגדרת זמני תזכורת + כפתור נודניק
התאורה יכולה לדמות זריחה בשעות שתבחרו
7 צלילים שונים לבחירה
כולל בחירת צבעין שונים
רדיו FM
עוצמת אור בהתאמה, יכול לשמש גם במנורת לילה לקריאה
כניסת USB A להטענה של מוצרים אחרים
(ע"פ הסרטונים נטען ע"י כבל USB MICRO/C).

בסימון קופון 50%, אפשר לחסוך עוד 10 דולר עם הקופון של visa



About this item
💗【Wake you up by Sunrise simulation & 7 sounds】Unlike regular loud alarm clock, the upgraded sunrise alarm clock has more innovative alarm methods: the sunrise lamp gradually changes color and brightness from dark red to bright yellow within 10-60 minutes before the alarm setting time. Besides, you can set the alarm with 7 sounds(Bird Singing/Ocean Sound/Stream Sound/Beep/Windbell/Piano Music/Soft Music). Wake up by sunrise and natural sounds just like in a forest , start your wonderful day.
💗【Dual Alarm Clock & Snooze supported】If you need more than one alarm setting, this Dual Alarm Clock is exactly what you want. You can set two alarms for different needs, like workdays and weekends. In case you feel so hard to get up by the first alarm, just press the "Snooze" button that allows you an extra 9 minutes to sleep, the music will plays again after 9 minutes and up to 5 times. Don't have to worry about missing important things.
💗【Sleep Aid Feature】Setting the sunlight and sleep music in advance, let the sunset simulate bring you a relaxing bedtime. Press the sleep button then the natural light alarm clock will gradually dim from 100% to 0% for a duration of 10-120 minutes(by your setting) with 4 sounds (Rain, Forest , River Sound and FM radio) , and help you fall asleep quickly. The sleep aid function will automatically turn off when it reach the time you setted.
💗【FM Radio Clock & USB Port】Just press the "Radio" button you will get a FM radio easily, provide you the latest news and interesting program. Long press the FM button for 2 secs and it will start and automatically scan all stations. You also can set FM redio to gentle alarm clock or sleep aid sound. In addition, there is a 5V/2A USB charging port behind this alarm clock. So you can charge your phone or other devices even without extra power outlets.
💗【Night Light & Bedside Lamp】The wake up light owns 20 levels brightness and 7 different colors. Just press the ☀ button to turn on the daylight and press the +/- button to adjust the brightness, so you can use it as night light, reading light or bedside lamp. Double Press the ☀ button to turn on the colorful light mode and press the +/- button to sellect the color, a simple way to turn the night light into a romantic mood light.
💗【Change Your Life By This Multifunctional Alarm Clock】 This alarm clock is one of the most innovative alarm clocks. Customize your own alarm clock to wake up naturelly and fall asleep faster, your health will be improved dramatically. You will no longer need more than 8 alarms in the morning and say goodbye to the hard sleepping time at night. A suitble alarm clock for heavy sleepers adults and kids.
💗【Easier To Use】There are some User Guide videos in main images, it can help you to use or set this sunlight alarm clock. Any other questions, please feel free to connect us via E-mail. 🎁Packaging List: 1*Wake Up Light Sunrise Alarm Clock, 1*Adapter, 1*USB Cable, 1*User Manual.